To enhance your peaceful getaway, Blisswood is comprised of four refined 1930's era lodges and cottages, all of which have been perfectly restored with no expense spared. Every lodge and cottage is equipped with modern kitchen and laundry facilities. Drink in the ambiance of your luxuriously vintage accommodations while breathtaking views seem to greet you at every turn.
The main lodge is approximately 4000 square feet and has three upstairs bedrooms, each with its own very large full bathroom. (There are two more half-baths downstairs.) Two of the bedrooms have King-size beds while the third bedroom offers two Full beds. The bedrooms are beautifully furnished and offer some magnificent views of the lake. The library boasts lovely lake views as well, along with two queen sofa sleepers that flank the fireplace, offering additional sleeping accommodations with a half bath nearby. Up to twelve guests can be comfortably accommodated within the Main Lodge.
As with all of our residences, Blisswood Lodge is decorated in a luxurious north woods fashion containing many antique pieces produced by the original Bliss family. The Lodge is anchored by three stone fireplaces in the living room, dining room and breakfast room. Each of these rooms exudes a tone of sumptuous comfort that is at once homey yet refined. The kitchen is a dream combination of modernity and north woods style. A huge stainless steel oven (with a convection option) and oversized refrigerator make any meal possible. If grilling is your passion, a large, stainless steel grill sits right out on the patio. If you happen to get your favorite shirt or pants dirty and have to get them cleaned, a washer and dryer are waiting at the bottom of the basement stairs.
Next to Blisswood Lodge, Moose Cottage is the largest of the lake view residences, accommodating up to six guests. It consists of two bedrooms (one with a stone fireplace and King-size bed and one with a Twin-size bunk bed and a Full bed), one bathroom, a kitchen and a very comfortable, vaulted living room with a wood burning stove. It also contains a washer and dryer.
Perch Cottage offers one bedroom, accommodating up to three guests (one Queen bed and one Twin bed) and one bathroom, a gracious, vaulted living room (with stone fireplace) and a small, yet very modern kitchen. A washer/dryer is also present.

Please note: Perch Cottage is only available May through October.
Named after the beautiful Merganser duck, this cottage accommodates up to four guests (one Queen bed and one Full bed in one bedroom), one bathroom, a bar area with stools and comfortable living room decorated in the same cultured manner as the rest of our residences. As with all of our lodging, a washer and dryer are present.

Please note: Merganser Cottage is only available May through October.
The Woodland Cottage is the only cottage that sits back in the woods, away from the lake. This cottage can accommodate up to eight guests in two bedrooms and a family room. Each bedroom has a Queen size bed and the family room has a Full size futon and Twin bunk beds. The large eat-in kitchen has plenty of space, as well as a washer and dryer. The upstairs loft bedroom overlooks the living room and the wood burning stove keeps it extra cozy. Daily visits from the woodland creatures are the highlight of your stay at this quaint two bedroom, one and a half bath cottage.
Sleeping Arrangements
When your day in the northern beauty of Michigan has come to a quiet close and the sun has set over the water in an array of hues you thought only existed in paintings, it's time to light a crackling fire in one of the many stone fireplaces that anchor all of our buildings. Then after the glow of the embers has lulled you into a relaxed reverie and the calm of the evening has given way to the silence of the night, be assured that Blisswood's beautifully appointed, spacious rooms will provide you with a most comfortable rest.
As you can see, we offer a number of different sleeping configurations ranging from King, Queen, Full, and Twin-size beds. The following is a synopsis of the bedding arrangements in the five residences: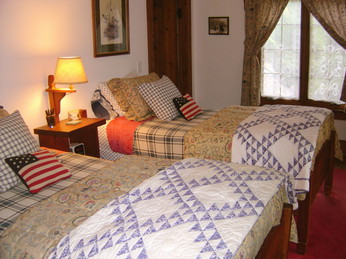 Bedrooms available in the Main Blisswood Lodge. Each one has its own very large private bathroom